As a tech enthusiast I really hate April Fools day. I hate that nothing I read today I can trust. On the other hand, as a Dad I love tricking my kids — so far today they have already thought the new kitten could speak and I'm working on more. There are so many tech April Fools jokes here are a few so you can enjoy the fun some of these companies have with it.
Google Pranks
Google Gnome
From the people that brought you Google Home comes the next evolution of the smart home. And it's just outside your window, meet Google Gnome
As all gnomes are (see Gravity Falls), Google Gnome is a dark character that is even more interactive and snarky than Google Home — although it is just a Google Home dressed up. A fun one from Google that is for sure. This is what their Super Bowl commercial should have been like.
Google Maps Ms Pac-Man
Google have also gone to the trouble of inserting a Ms Pac-Man game into Google Maps. Open up Google Maps and you are greeted with the usual icons on the right plus a Ms Pac-Man icon. Tap on her and it takes you to a random place (University of Ghana for me) where the streets turn into a Ms Pac-Man game complete with cherries, strawberries, power pills and ghosts. A fun game that must be easy as I have been able to complete it. There is only one level.
Chromebook Accessories
Google's Chromebooks are becoming a massive part of the computing landscape, today (April Fools day), they're launching a huge new range of Chromebook accessories including the Chromebook Selfie Stick, Cardboard for Chromebooks and a Chromebook Workout Armband for jogging.
You can check them all out on the Google Blog.
Haptic Helpers
We love VR but it isn't quite there yet, there's still the tactile nature of 'real life' that's missing. Google is solving this issue with Haptic Helpers, who will use 'a modest set of everyday tools, these VR virtuosos can simulate more than 10,000 unique experiences, all from the comfort of your own home. Smell the roses. Listen to the ocean. Feel a fluffy dog!'
Check out the intro video:

You can even head over to vr.google.com/haptichelpers/ to sign up as a beta tester ;).
Google Wind
Using the power of Google's Cloud Platform to predict how clouds in the Netherlands behave Google Wind allows Google to control the weather all year round. By repurposing all 1170 windmills in the Netherlands and machine learning Google is able to blow all the bad weather away, and also control when and where it will rain. Wonder if the weather bureau will be able to get it right even then. There is no word when they will be rolling this out worldwide.
Google Puchi puchi
Google Japan have also got in on the fun introducing what looks like plain old bubble wrap but is the keyboard of the future. This "light" input makes the keyboard as light as air. Check it out below. Ingenious.
Google Cloud Platform expands to Mars
In a move that Matt Damon could have used a year or 2 ago Google have today announced their expansion to Mars.
By opening a dedicated extraterrestrial cloud region, we're bringing the power of Google's compute, network, and storage to the rest of the solar system, unlocking a plethora of possibilities for astronomy research, exploration of Martian natural resources and interplanetary life sciences. This region will also serve as an important node in an extensive network throughout the solar system.
In an important move Google have also included the ability to store planet-redundant data across Earth and Mars so that "if Earth experiences another asteroid strike like the one that wiped out the dinosaurs, your cat videos, selfies and other data will still be safe." This move into the Mars market is just the beginning for Google with them looking to expand to the entire solar system in the future.
If you want to have a walk through Google's Mars data centre head over to the Maps space website and check it out.
Google Assistant spills the beans
Google Assistant is also getting in on the act with them spilling the beans on just why your friend was getting you to help them remodel their basement. Think twice before helping anyone again.
Google Play for Pets
Google has always had a soft spot for pets, and this year for April fools they've launched two new products for pets one for iOS using animals, and one for Android loving pets. For iOS users, they can get their paws into 3D Touch now working on the Google app, now cats and dogs can use 'I'm Feeling Woof or I'm Feeling Meow' to search for their favourite chew toys, or snacks.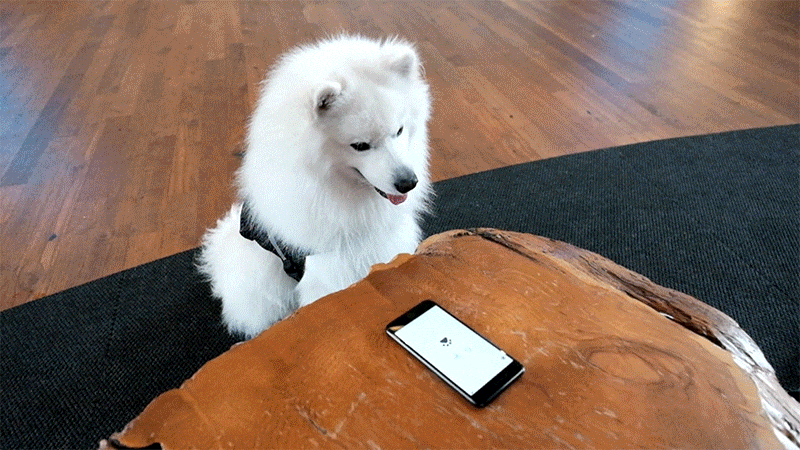 Android using Cats and Dogs can take advantage of the new 'Pets' category on Google Play, with integration into Google Play Games so you can keep an eye on how Fido or Mittens is doing on Asphalt 8, or Clash of Clans.

Google Word Lens introduces Heptapod B
If you haven't seen the 2016 movie Arrival, it's fantastic original Sci-fi and Google seems to be a fan adding the unique language from the movie, Heptapod B as the 32nd language supported by Word Lens.
Google has partnered with Dr. Louise Banks (Amy Adams character from the movie), adding the option to translate the circular logograms from the film into English, Chinese, Danish, Japanese, Urdu, Russian, French, Spanish and Arabic through the Google Translate app. They've used their knowledge of translating Logograms from Chinese and Japanese language, as well as characters containing circles from the Korean language to help out.

Now if we get a visit from any monolithic spaceships, we might be able to communicate a little easier.
Everyone Else
Samsung Exynos Yoga Processor
This one is unbelievable just for the basic name. I do like the idea of a flexible processor and surely with all the talk of foldable phones and flexible screens this will have do eventually become a reality?
We are proud to introduce #ExynosYogaProcessor for flexible mobile devices! pic.twitter.com/FrFzHDghbV

— Samsung Exynos (@SamsungExynos) March 31, 2017
OnePlus Dash Energy

While OnePlus do not get must traction here in Australia I follow them on Twitter on the hope that one day they will acknowledge we exist. Their proprietary charging system is called Dash Charge so today they "announced" an energy drink called Dash Energy Drink. Their claim, and play on words from their charing PR, is:
It's the end of 8 hours of sleep a day. All you need for a day's power in half an hour is a single can of Dash Energy.
This one is even better than others because they actually made the product and sent one out to David Ruddock of Android Police.
https://twitter.com/RDR0b11/status/847821321664778242
https://twitter.com/RDR0b11/status/847830670160175104
As one Twitter user said, the drink had just not settled (#groan).
ING Direct – iTM

Ever needed cash but not been anywhere near an ATM? ING Direct is jumping into 3D printing in a big way with their iTM – a smartphone that utilises the latest in 3D printing technology to print cash notes on demand.
The iTM will allow customers to withdraw cash from their Orange Everyday account by linking to the ING Direct App. According to ING, the iTM prototype is the result of a yearlong collaboration between the ING DIRECT innovation team, technology and 3D printing experts.
John Arnott, Executive Director, Customers, at ING DIRECT said
At ING DIRECT we realise our customers want access to money on their terms, at a time that suits them. While many of our customers are embracing mobile payments, there are still those who still prefer cash and we want to make sure we support that choice. With the iTM, customers will no longer have to find an ATM in order to withdraw money. Whether they're at the local café, at a live music venue or out to dinner with friends, iTM users will be able to withdraw funds regardless of their location. Most importantly, getting stuck without cash will become a thing of the past.
With this addition, the ING app gets a lot more useful 😉 – you can of course still do all the usual things in the app, including check your balance instantly, move money between accounts, transfer funds to friends, pay bills and lots more.
Virgin Mobile – PhoYo
Ever dropped your phone? Thought maybe you should have it attached to you? With the Virgin Mobile Pho Yo case you can just whip it back into your hands if you're ever unfortunate enough to drop it.
The case should prevent all those cracked screens you see around the place. I`m sure just like the Yoyo there's plenty of tricks anyone picking up one of these beauties will be learning, so look out next time you're out on the town.
https://twitter.com/VirginMobileAus/status/847947014029492224
The All New Huawei Mate 9.2
In a late entry Huawei Australia have announced their new Mate 9.2. Some manufacturers are removing headphone jacks, Hauwei and have decided to do the opposite and add an extra. Any ideas what the extra headphone jack could be for?
Introducing the next generation of the Mate 9 – the Mate 9.2 with not just one, but two headphone jacks! Available April 1st (#aprilfools 😉) pic.twitter.com/yEkSIpqfQk

— HuaweiMobileAU (@HuaweiMobileAU) March 31, 2017
Netflix
Life a little boring? How about watching comedian Will Arnett commentate on a list of every day items for 49 minutes? Netflix has added a new show called 'Netflix Live', the official synopsis reads:


Toasters toasting. Grass growing. Fans blowing With Netflix Live you can experience life's biggest thrills, right from the comfort of your couch.

If you're a Netflix customer you can check it out here.
Deliveroo launch extreme delivery with Huxtaburger
After almost two years in the making, today marks the launch of Deliveroo Extreme Delivery, the innovative
new concept taking the food delivery industry to all new heights. Deliveroo now offer delivery anywhere with their new sky diving service.
Deliveroo Country Manager, Levi Aron comments, "This was a natural progression for Deliveroo, with new
technologies and the ever-growing consumer need for convenience, it was only a matter of time before we
started delivering food from above."
Huxtaburger are on board of course and after watching the video below I now have a hankering for a Huxtaburger. I wonder if they'll deliver to me here at the gym…

Updating…