Olé, olé, olé, olé, the Football World Cup kicks off in Russia this week, running from the 14th of June to 15th of July. The tournament will feature 32 teams playing 64 matches in 12 venues across 11 cities. Today Google has announced a few tools and ways they're going to help you follow the whole shebang.
Search
To start with the jewel of Google's crown: Search, will feature a new tables for following results when you search 'FIFA World Cup'. The search results will show matches, group tables, stats and trending players, with video highlights being added within 30 minutes of a game ending – though the caveat to that is Google adding 'from select broadcasters' so it's likely going to be dependent on region.
For watching a specific game, (such as searching Australia vs France) Google will again offer video highlights (again, likely to be dependent on the rights holder in your region) as well as 'a detailed timeline with updates including in-game moments, live images, stats, tweets and more'. The more includes a neat live score widget you can drag from the search results and then pin to anywhere on your screen that will be constantly updated.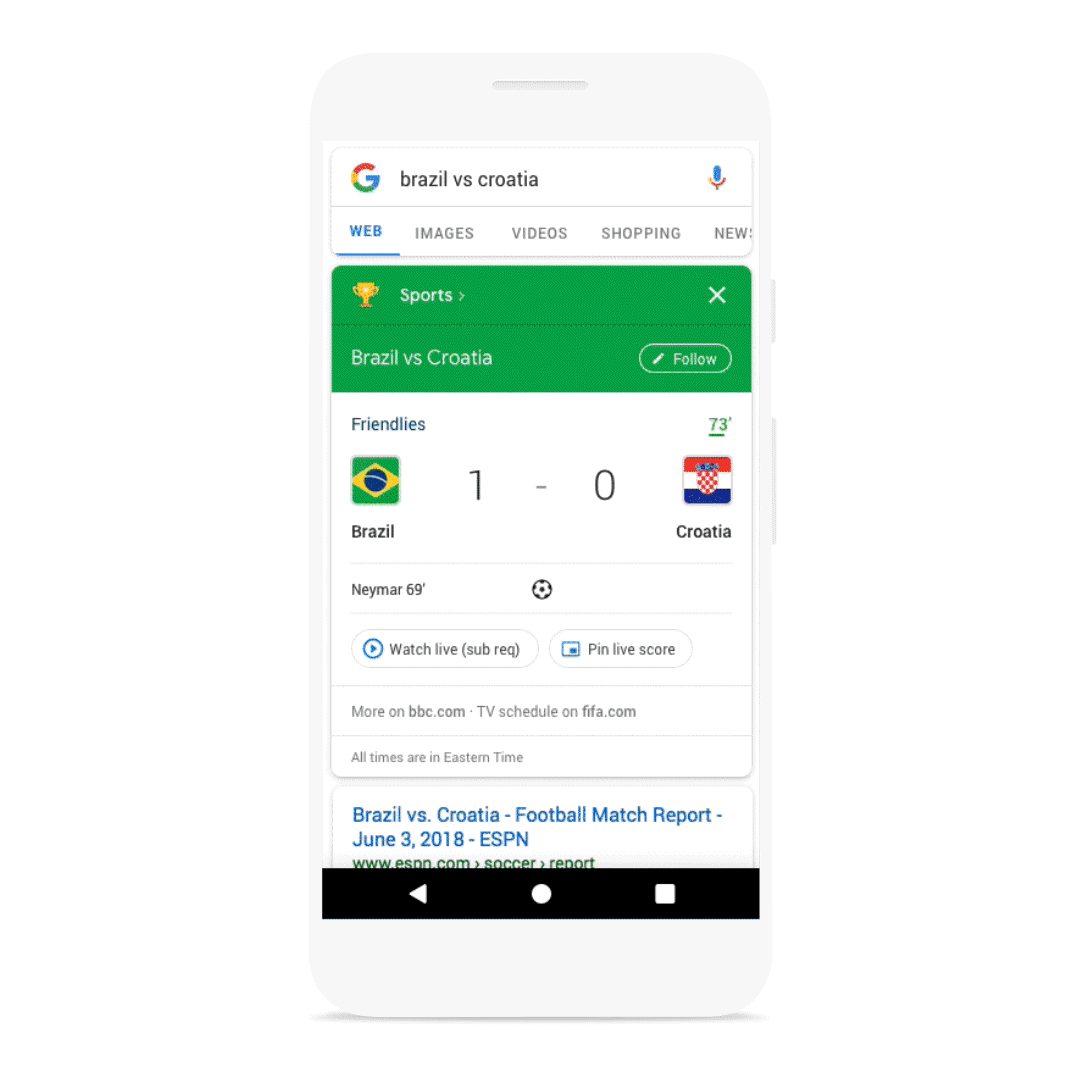 Assistant
Of course Google has primed Assistant to be helpful with the World Cup and you'll be able to ask for information on your phone or your Assistant enabled smart speaker.
Google says you'll be able to get match results as well as stats including 'which players have scored the most goals in this year's quest for the Golden Boot, or how many FIFA World Cups Brazil has won'. They'll also likely seed some fun easter eggs into the search results so see if you can find some.
Google News
One of the most polished and useful launches from Google I/O this year has been Google News and it will be used to full effect in the World Cup. Google will be offering a dedicated World Cup Tracker in the Google News app on Android.
According to Google you'll be able to find 'a special "spotlight" feature that provides an easy way to visualize live scores, highlights, results, and schedules all in one place'.
Unfortunately we won't be getting any video highlights, with Google saying those will be restricted to those living in the U.S., Germany, France, U.K., Brazil, Mexico, Argentina, Peru, and Colombia.
Google Trends
Google will offer more stats through their Google Trends page which will offer 'interactive, real-time view of FIFA World Cup searches'.
The results won't be terribly exciting for most, but will include 'real-time rankings of the world's players based on search interest and embeddable maps and charts where you can relive each game through Search, as soon as it happens'.

Google Maps
According to Google, they'll also be offering you info on where you'll be able to watch the matches being held during the tournament – but given the time delay here in Australia those choices are likely to be limited. Still, if you want to try you'll be able to see a 'good for watching sports' tag on business listings in Google Maps and search results.
There is still more though for Maps fans, with Google offering Street View level tours of two FIFA World Cup stadiums: Otkrytye Arena and St. Petersburg Stadium.
Google Play
Of course there's an app for that. Google has suggested a number of apps available on Google Play :

Google Merch!
And finally, if you want to show you're both an Android AND a Football fan, then Google has you with a Limited Edition Android World Cup Tee. Shipping from the official Google Merchandise store, the t-shirt is available in five sizes ranging from Small through to XXL.
It's going to be expensive to get here though, at almost $80 Australian dollars including shipping. If you want to check it out though, maybe you can grab some other Google/YouTube/Android merch to make it worthwhile.
So, there's a lot of ways to follow along with the 2018 FIFA World Cup