It was news this morning that Samsung would continue its on-again off-again relationship with MWC, opting to launch its 10th anniversary Galaxy smartphone away from the industry's biggest tradeshow.
In 2019, the Samsung Galaxy S10 will join the Galaxy S8, as well as much of the Note line, in being launched at a solo event away from the buzz of a tradeshow. There's a lot of reasons why Samsung would want to do this, and the decision to move away from MWC (again) might tell us a lot about where the mobile industry is headed, and what kind of focus Samsung wants.
Holding its own event gets Samsung a lot more attention
First and foremost, a standalone launch gets attention. It's something that other juggernauts in this space learned some time ago, and have used to their advantage. Take Apple. The company launches products at its own events such as WWDC, or events specially called for iPhone or iPad launches. Apple doesn't even attend tradeshows like MWC, preferring to keep its brand as is.
Why would it do so?
By launching your product at MWC, you guarantee a couple of things. Yes, there's a good chance you'll get it in front of a larger variety of press attendees; they're already at MWC, and there's a good chance they'll want to come and see your product. You even save on having to fly journalists there — many of them will be attending with other brands, or will be there off their own bats.
A MWC launch, for a brand like Apple or Samsung, guarantees other things though. It means having to share the limelight with other launches. It means the media won't be talking about your product in isolation, it means having to share the coverage with whatever else gets launched around the same time.
And, at an event like MWC, there are going to be other launches. It is, after all, a trade show. That's what happens there. Why launch a product only to have others announced the same day, and others launched the next?
Thus, there's very good reasons to launch somewhere else. Yes, you might not get as many attendees, and yes, you might have to fly a greater percentage of them there (as they're not likely to be there for some other reason). However, the reward is undiluted, almost exclusive airtime.
That's worth quite a lot, and in 2019, the story is all about Samsung's 10th anniversary of Galaxy.
With MWC at least, Samsung benefits whether it's there or not
Samsung holding its largest product launch of the year at MWC sends a strong message; it validates MWC, and encourages people to be there to partake in the spectacle (and trust me, it is a spectacle).
However, Samsung manages to become news whether it's at MWC or not. On the years that Samsung launches a phone there (S7 and S9, for example) the show takes on a slightly different flavour. It's the phone everyone's talking about and everyone's excited about.
When Samsung's not launching at MWC, the air is different. Instead of a flap about the next big phone, it's more of a "Why isn't Samsung here? Who'll launch something good if they don't?"
The answer is "pretty much everyone else". In the years that Samsung hasn't had a product announcement at MWC, virtually every other brand has, and we see a huge influx of phones. In 2019, it's unclear whether that'll be the case – the contenders are fewer in number, and some brands once powerful are now at the precipice of demise.
One thing's for sure; Samsung being at MWC or not doesn't matter. MWC will continue regardless, and Samsung will be talked about regardless.
The focus at tradeshows is increasingly on the mid-tier market
The other reason Samsung might want to move its launches away from MWC is to differentiate itself from the brands that do launch there. It also recognises the purpose of a trade show – to facilitate trade (and that doesn't really mean business to consumer trade).
Rather, the focus of a trade show – it's reason for existing – is to encourage business to business trade, and at MWC, that means sales of handsets to networks, and sales of hardware to carriers to build networks. Of course, there's a lot more that goes on, but that's the core of it.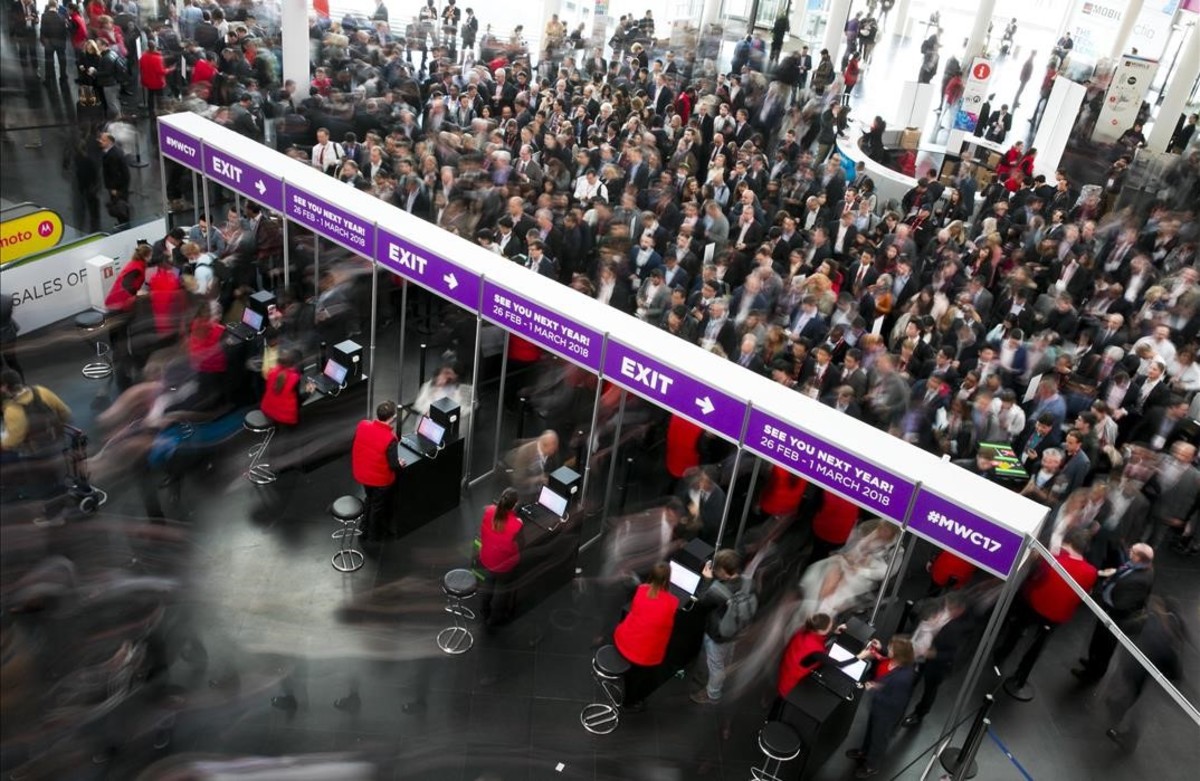 One need only look at the list of attendees at MWC (of the corporate kind, at least) to get an understanding of what's going on. In past years, some 200 telcos have attended, and many of them are mid- to low- end of the market. This is where the volume is, after all.
This is also why cheaper brands are exploding in developing markets. In India and China, two of the world's largest, it's not top tier phones like Samsung and Apple that are raking in the cash. It's the phones that cost as little as 10% of the premium smartphones, and the competition in that space is rapidly heating up.
Google's focus is already there with Android Go. Nokia is killing it. Huawei and Oppo have plenty of mid-range offerings which are excellent value. That's just three brands; there are dozens more, and plenty which wouldn't even be recognisable in Australia.
Put simply, besides some headline-friendly handset announcements (which we love, don't get me wrong), the business of MWC is about connecting the next 1 billion users, and that's going to happen with mid-range (or budget) handsets, not $2000 AUD smartphones from Samsung or Apple.
Samsung's news would get overshadowed at MWC, and that's why it won't be there in 2019 (at least, not with a premium smartphone launch).
It also costs a lot to launch a phone at a tradeshow
A thought which we initially missed is the cost factor. Undoubtedly, it costs companies a fortune to be present at a trade show, much less to run a separate press briefing. For those who've never been, let me walk you through Samsung's presence at MWC last year, and you can do your own math.
For starters, Samsung had global staff attendance at MWC, from the US, to Australia, across Europe, Asia and probably even Africa. That, alone, is not cheap. But what did Samsung do?
For starters, it held a private briefing on Saturday morning for select media (not everyone got one of these briefings). That would've necessitated venue hire, setup and knock down, staffing and more. That I understand, Samsung ran a few of these briefing sessions back to back, so probably hired the fairly small venue for the day, staffed it, and had it fed and watered too. That isn't cheap.
On Sunday afternoon (just before MWC kicked off), Samsung held its Galaxy S9 Unpacked event at Fira Montjuic in central Barcelona. The event catered for well over 4,000 attendees, and by catered, I mean this:
Hiring the premier venue itself
Free beer, wine and spirits after the show
Bottled water at every seat
A good dozen food stalls feeding the attendees afterwards
A gift worth about $50 AUD for every attendee
The attendance of at least 100 paid staff to run the demonstration room
Security for the entire event
Setup and knockdown for a seated event with 4,000 attendees
Lighting, sound, engineering and more to pull off the actual show itself
The gift for attendees would easily have been north of $200,000 AUD alone. It's entirely conceivable that the cost of this production alone (not factoring in anything else at MWC) would've been measured in millions. Don't forget that during MWC, everything in Barcelona costs more – accommodation, venue hire, transport, and probably event staff too. Samsung can't benefit from choosing a less expensive time if it exhibits at MWC – it's top dollar.
This cost, all before MWC had even officially begun.
At the tradeshow itself, Samsung has one of the largest exhibition spaces of any vendor. Only Huawei, Nokia and Ericsson lease a larger space, and only a couple match Samsung's size (Qualcomm and Sony). That can't be cheap, either, and Samsung's booth is staffed by close to 100 event staff, not to mention the Samsung staff floating around, the cost of building the stand itself, powering and lighting it and so on.
Samsung's presence at MWC would cost a fortune.
While Samsung would undoubtedly incur a large cost in conducting a stand-alone press event elsewhere, it obtains a number of cost benefits from doing so:
It can time the event for non-premium pricing. Venue hire is likely to be cheaper.
Staffing is likely to be cheaper if there's no competition for large numbers of hands.
The food and beverage cost is significantly less.
Hiring fewer staff for a shorter period.
There's probably more, but that alone is probably a saving of about 50% right there. If a company like Samsung can save itself cost, and obtain more bang for the buck it spends by launching away from a tradeshow, it seems like a no-brainer, right?
A parting thought. Why go early?
Much of the logic for Samsung holding its Galaxy S10 launch away from MWC is to have the focus solely on Samsung, and not shared with other launch announcements at MWC.
However, one thing doesn't quite make sense from this angle. When Samsung announces the Galaxy S10 ahead of MWC, it will have the airtime to itself for a couple of days at most, before the media starts talking about other things being launched at MWC. From this perspective, it makes more sense to launch after the event, when there's nothing to compete with (or be drowned out by) for a little while.
Why it might make sense is for a different reason entirely. The reason you'd launch early, if you were Samsung, is if you wanted to be the first out there with something new. At MWC this year, we're likely to see new things, and if you're Samsung, chances are you'd want to be first to announce something like that.
With rumours swirling that Samsung might announce a foldable phone ready to go, or 5G variants of  the Galaxy S10, you wouldn't be aiming to be second (or lower) to announce such a thing. No, you'd want to be first.
So, as much as Samsung's messaging may get overtaken by things coming out of MWC 19, being first to announce something – even if it is only by a few days – is probably worth a little more.
Only one thing is really certain; in a touch over five weeks, we'll see an Unpacked event from Samsung with some very, very interesting products. We'll also have MWC 19 shortly after, and we'll see many more. I know I'm excited this phone season.
What about you?