Google has announced the launch of Google News Showcase in Australia, in timing that can only be called very fitting.
Rather than capitulate to the Australian Government's laughable draft media code, Google has shown how it would prefer to work with news organisations in Australia, and News Showcase is it.
The goal is to benefit news publishers and to ensure fair voice for regional and independent publishers too. It's designed to bring value to publishers and readers alike by offering a licensing program that pays publishers to produce content for use in story panels across Google services. It benefits readers by bringing them more stories that matter, allowing them to find the content they want.
You know, what search engines do.
Over the last year, Google has invested around $1.3bn AUD in news funding around the world, and there are some 450 publications across 12 countries participating in the Google News Showcase product. Relevantly, Google News Showcase is the product that Google has offered to French publications which was reported in the media in the last few weeks.
Starting today, Australian publishers are joining the fray and will be paid to provide content for News Showcase. Publishers launched today were among the first to express interest, and have provided much feedback and input on how the product should work here.
A Google spokesperson said:
As this early version of News Showcase rolls out, the partnerships will provide financial support for some of the country's most respected independent, local and regional publications including The Canberra Times, The Illawarra Mercury, The Saturday Paper, Crikey, The New Daily,  InDaily and The Conversation. We are looking forward to bringing more Australian media partners on board in the coming weeks and months as we further build out the experience for publishers and users.
How does it benefit publishers?
It's like Google News, but better; it gives more information to readers so they can make an informed choice on what articles they'll read and not. It also gives publishers more control over presentation and branding.
The panels will appear across Google News on Android, iOS and the mobile web, and in Discover on iOS, bringing high-value traffic to a publisher's site.
Google also plan to bring News Showcase to Search as well as the other surfaces of Google News and Discover in the future. Each article linked in a News Showcase panel takes the reader directly to the corresponding page on a publisher's site, allowing publishers to further grow their business by showing users ads and subscription opportunities.
Here's how it looks: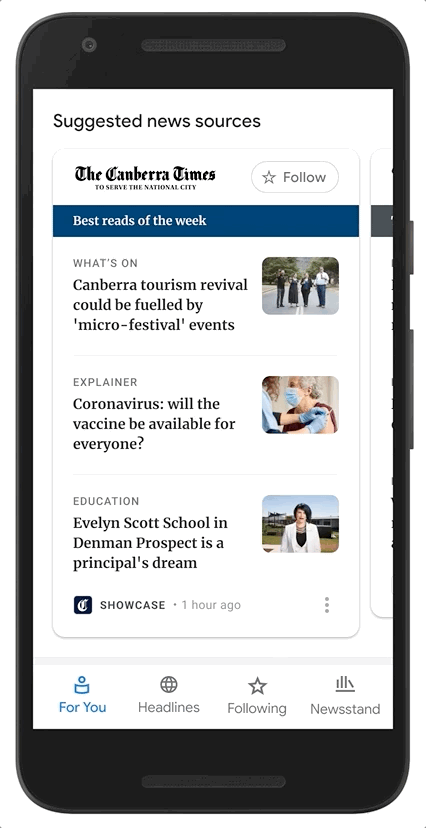 Google's pretty proud of its News Showcase product and we can't wait to see how it works here in Australia.